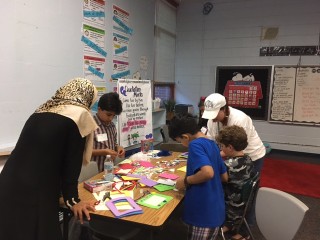 EPP Highlights
MTSU's Quest for Student Success is a campus wide initiative focused on student-centered support services in order to prepare students to thrive in their chosen professions and a changing global society. The College of Education has implemented multiple strategic initiatives to ensure student success while at MTSU and beyond. One such initiative is the ASPIRE to Teach grant established in 2014 in response to the growing number of students whose short-term financial challenges threaten to derail their pathway to teaching. ASPIRE to Teach provides small financial grants to teacher candidates, particularly during the Residency semesters, so that they may continue their education at MTSU while working toward their goal of becoming a professional educator. Made possible entirely through donations, funds are available to undergraduate, graduate and international students, and are awarded as grants that do not have to be repaid. By 2016, an ASPIRE endowment of over $50,000 had been established. Another initiative is the Clothing Our Educators Boutique to help future teachers dress for success for interviews and teaching careers. The boutique provides professional clothing at no cost to students in the residency portion of the teacher preparation program. In order to provide a global perspective to teaching, MTSU teacher candidates have a unique opportunity to study abroad in Singapore or spend a portion of their student teaching semester overseas through the Consortium of Overseas Student Teaching (COST) program. Our students have student taught in countries such as in Australia, New Zealand, Costa Rica, Ireland, Mexico, South Africa, and Greece.
Literacy
Teacher candidates at Middle Tennessee State University (MTSU) are actively engaged in sequenced coursework and field experiences, which are designed to provide content and pedagogical development in literacy from their very first education course to their final capstone experience, Residency II, Directed Teaching. As a result of the recent EPP literacy standards proposal process, programs across the college were closely examined to ensure that the literacy standards are firmly integrated across all programs to assure that teacher candidates are prepared to meet the literacy needs of our increasingly diverse population. A focus on the three shifts in ELA instruction (text complexity, knowledge, and evidence) was critical in identifying programmatic changes needed for full implementation of the standards. For example, in our secondary licensure program we have reached out across campus to teacher educators in the different content areas to discuss how candidates are acquiring content-area and disciplinary literacy in the existing structure. We are creating systems and learning tasks that will better support candidates' acquisition of these literacies as well as their ability to engage K-12 students meaningfully in both content-area and disciplinary literacy practices.
In particular, a crucial component of effective literacy instruction for MTSU teacher candidates involves the strong collaboration with our partnering 43 school districts and local communities to 1) improve student achievement and candidates' readiness to teach literacy, 2) address district, school, and family needs, and 3) inform curriculum decisions that support teacher performance to foster students' literacy learning. This connection includes embedded field experiences within coursework in partnership with local schools as well as events such as Family Literacy Nights, an annual literacy conference hosted by the Ph.D. Literacy Studies program where teachers are invited to both attend and present, and multiple professional development opportunities through college centers such as the Dyslexia Center and the college departments.