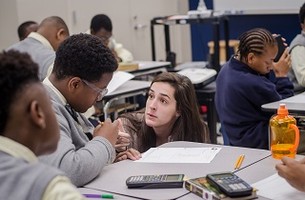 EPP Highlights
The mission of Memphis Teacher Residency is summarized as "Christian love expressed in equal education." As such, our goal is not simply to provide effective teachers to our city's schools that employ approximately 7,000 teachers. For students to learn at high and equal levels, students must have an effective teacher each year of their K-12 education. Training high-potential teachers and focusing their placement in specific partner neighborhoods meaningfully advances the goal of ensuring that students in these neighborhoods have effective teachers in each year of their education.
The results of a 1996 research study found that students with comparable abilities and second grade achievement levels assigned to the most effective teachers for three consecutive years had a 5th grade math achievement advantage of more than 50 percentile points over their peers who were assigned to the least effective classroom teachers for three consecutive years (Sanders & Rivers, 1996). Exposure to consecutive quality teaching has a dramatic and powerful positive effect on student achievement.
MTR focuses teacher placement within specific partner K-12 feeder-pattern schools that serve students within identified partner neighborhoods. In each of the last two residency classes, 98% of graduates were hired into a partner neighborhood. This intentional focus will increase access to high-potential, residency-trained teachers for children in MTR partner schools. Now in our 10th year, MTR currently has 323 residents and graduates teaching and leading mostly within our 33 partner feeder-pattern schools that serve six MTR partner neighborhoods: Binghampton, Orange Mound, Frayser, Mitchell Heights, Graham Heights, and Alcy Ball.
Literacy
All elementary and ESL residents take "Teaching Reading, Language Arts, and Social Studies in the Elementary School." In this course we examine the critical role we play as teachers of literacy in unleashing the potential of our students knowing that reading is a civil and human right. Graduate students are introduced to the interrelated role that phonemic awareness, phonics, fluency, vocabulary, and comprehension play in a child's ability to read. They are also exposed to the integration of social studies and science in a literacy block through the use of nonfiction text.
In this course students get to experience being a reader through literature circles and exploring their personal reader identity. They also practice what they are learning in their internship experience, and we have created assessments specifically designed to allow our graduate students to implement what they are learning in the classroom. One example of a key assignment is a children's literature bibliography. In this assignment, residents internalize a curriculum module to make decisions about extra texts that could enhance the curriculum. They have to examine the text complexity of these texts and determine the cultural relevance for the students in their classroom.
All secondary residents take "Reading in the Content Area." This course is an exploration of literacy skills and how these skills can be used in specific content-area classrooms to enhance learning. Students are encouraged to explore best practices in teaching their content area while maintaining sensitivity to individual differences found in the classroom environment.